The WHO (world health organization) has been declared COVID-19 as a global pandemic. It is an uncertain time with many hidden facts, and many businesses are slowing down. The major industry, like Uber, Facebook, Apple, has cancelled their events due to the coronavirus. Uncertainty and fear of coronavirus make an impact on the real world. The digital world and digital marketers are also affecting COVID-19.
Daily situation report updated by WHO on how many new cases come to an entire scenario of the coronavirus. The overall effect caused the global stock market to crash, that means the business you will be affected. I am going to see how coronavirus has impacted the marketers.
Avoid Exploiting The Coronavirus 
Supplies chain all over the world, running near to slow down. To fight against this pandemic hand sanitisers, hand wash, toilet paper, and the mask is the essential requirement. I have seen on the many websites that they are selling this product on 10 to 15 times increased price.
One of the best ways to make a quick come buck is to avoid exploiting the Coronavirus situation. It is very short-sighted, but wrong. It is not entrepreneurship and marketing. You can able to make a speedy buck, but make sure it was not the last. It would be best if you spent your time in anything that is long term. So we can find the way that what does COVID-19 impact on marketers.
Business is going to struggle
Even if China has control over the new cases come in China every day, this virus slowdowns the number of businesses in the and they are going to struggle. They will be going to struggle over the year because they have to cover up their losses. The impact on retail sales in China is drop down by 21%, and unemployment is increased very rapidly. In February, the unemployment figure also increases.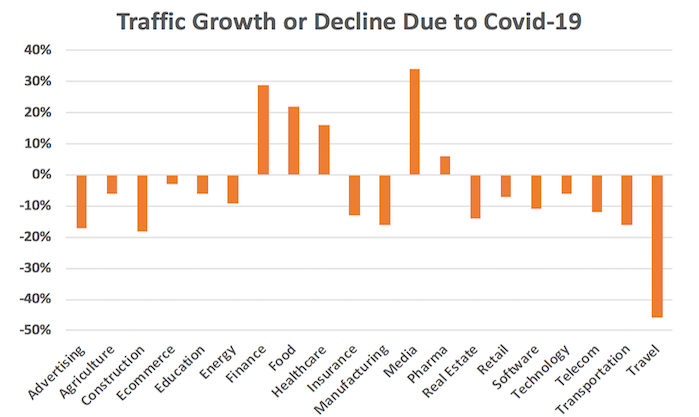 The big organisation like Apple also shut down its store to the reduced spreading of this novel coronavirus disease. As a resultant less sell, that means less profit. During this temporary shutdown, Apple offer paid leave to their employees. But it is not possible for all companies.
Travel industries are also facing the big hit of COVID-19. 820 billion dollars are expected to lose in the travel industries across the world. The ports are also affected; shipment businesses are also laying off. Virgin Atlantic also cancels most flights and ask their staff to take eight-week unpaid leave to amidst COVID-19 cuts. The total novel coronavirus will cost $2.7 trillion for the global economy. The impact is not only money, but conversation and traffic are also suffering.
Impact on Pay Per Click
In the pay per link, there is not much impact like travel industries. Ubersuggest is mainly used for SEO, but I don't have seen a significant swing in cost per links. The price has not much come down.
I saw an impact on the number of people searching for things like flights or hotels. Nowadays, these keywords are less searchable. I did not see a significant drop in CPC, but I also observed an increase in cost per acquisition. For example, keywords like buy sanitiser have higher searchability, but the cost per conversation has been increased. You can still pay the same amount per click.
Signing Off
Nowadays try not to socialise and avoid to go in the crowded areas. I hope COVID-19 passes with minimum impact. And in the marketing field, it is time for you to double down.